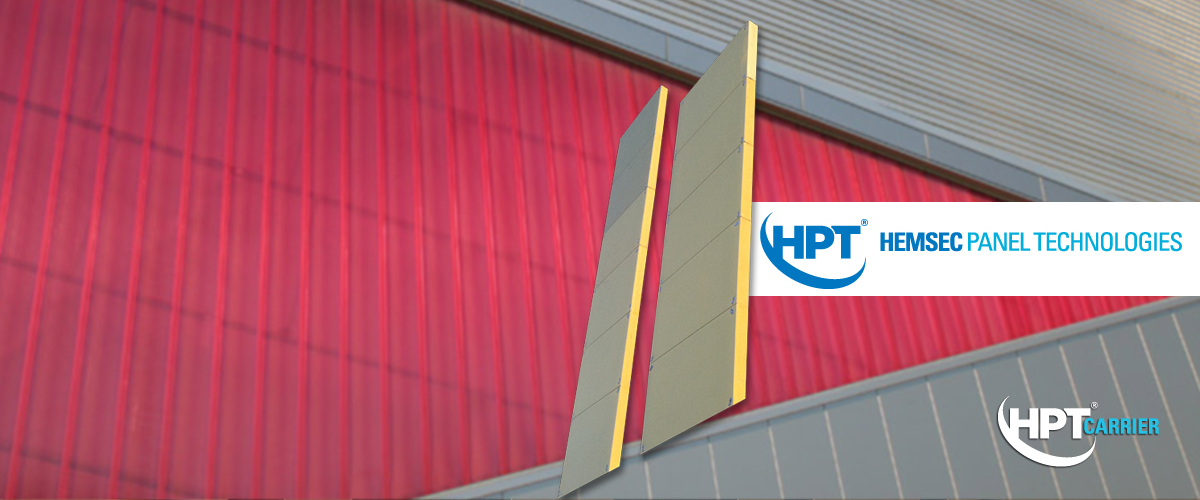 Hemsec Panel Technologies
Composite Insulated Panel
The finish you want, the performance
you need...
Hemsec Panel Technologies…
With its flat metal outer skin, Hemsec composite panels provide the possibility of fixing hard metals directly into the panel surface. This is by far the most time efficient and cost effective build up possible for standing seam roofing, and in our experience Hemsec Panel Technologies offer the most cost effective panel and provide superior technical assistance within unrivalled response times. Furthermore, when tested to EN 12114 in accordance with BS EN 14509: 2013 their unique interlocking joint provided the Hemsec panel system with unrivalled airtight performance of 0.01 m3/m2/hr at 50 Pa.
Fixings used should be;
Order Code    Ø x L     Article-Nr.     Material         Drill. cap.     Mm  length
SN3/18-S-7982 / 4,2 x 25 /  61514 / Stainless steel  /      3mm  /    18mm  / 1000pbx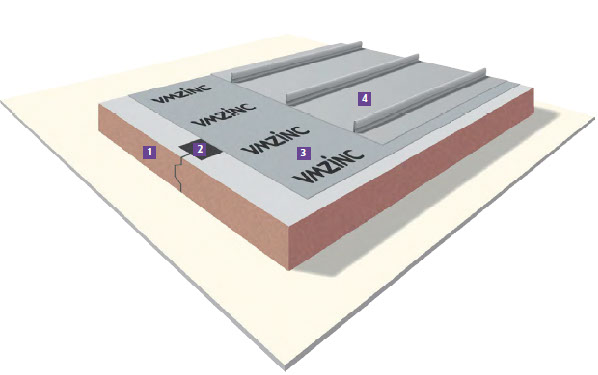 Typical build up
 • Metal Skinned Composite Panel – this acts as deck and vapour barrier. Joins must be sealed using Foil tape
 • Foil Tape
 • Breather Membrane, Metmatt or Structured underlay according to metals used
 • Zinc / copper / stainless / Aluminium
More than 85 years after the business was founded, Hemsec Panel Technologies remain amongst the top composite insulated panel manufacturers in the industry. From the company's beginnings in 1928, manufacturing ice cream and chill cabinets for major food manufacturers, HPT has developed one of the most technologically advanced ranges of highly engineered PIR fire rated, structural, insulated composite panels for use in internal applications and external envelopes.
Available in a wide range of insulation thicknesses to meet appropriate U-values, our fire resistant and food safe panels are lightweight, offer exceptional thermal properties, high levels of sustainability and environmental performance together with reduced on-site installation times.
HPT composite insulated panels have been installed as walls and ceilings into leading supermarket cold stores, food production facilities, factories, cold leisure facilities, distribution centres, clean rooms, research and design laboratories, pharmaceutical facilities and data centres throughout the UK.
Fire resistance and structural requirements are met with certification by the LPCB, FM and Lucideon, providing performance for fire integrity, fire insulation and UKAS approved independent structural test data. All panels are factory engineered under the ISO 9001 Quality Management System Standard.
In addition to our range of PIR insulated panels, we offer ancillaries such as flashings, fixings and ceiling suspensions helping to reduce waiting times and ensure a co-ordinated delivery.
HPT Carrier
80mm – 200mm External System Carrier Panels.
HPT Carrier are fire rated panels providing an ideal structural, low air permeability and thermal 'support' solution for roofs or walls. Various external finishes can be applied (by others) inc. zinc standing seams, rain screens, Etc.
Steel Finishes:
External finishes include: 0.7mm Aluzinc, Primer and Colorcoat LG (available in a range of colours). Internal finishes include the above plus Polyester and Primer/Liner. Available from various manufacturers.
Profile Options:
External Face: Smooth (as standard).
Internal Face: 100 Rib or Smooth.
HPT Carrier panels (80mm – 175mm) are LPCB – LPS 1181 part 1 approved.
LPS1181 insurance approval consists of a series of fire growth tests for panels used on the external envelope of buildings. The level of approval is EXT-B and EXT-A30.Wall Panels have also been tested to BS476 Part 22 and achieved 64 minutes integrity and 47 minutes insulation.
"A Positive Partnership –

Through excellent work ethics and unparalleled service JMR have become leaders in our field.

"
All products can be delivered by JMR, utilizing our extensive all Ireland network of Hauliers. Special facilities such as HIAB Crane, Flatbeds or small vehicles for restrictive site access can be arranged upon request when placing an order.
Contact our friendly sales and technical team on +353 1 4201714 or send us an e-mail. If you would like to contact us via the website out of hours please click here.